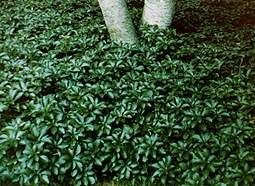 A neat, small Pachysandra Terminalis planting in deep shade under a white birch tree. Evergreen the year round, this compact growth was achieved with about 300 plants.
An old-time ground cover plant with versatile modern day use. Evergreen the year round, self-sustaining and always looks well. Ideal for partly shaded or full shade areas.
You can make your home ground the showcase of the neighborhood. Your foundation planting is not complete without PACHYSANDRA or VINCA MINOR as a permanent evergreen cover. PACHYSANDRA or VINCA MINOR makes a unique gift to your HomeOwner friends.
REMEMBER - Once established, a PACHYSANDRA planting will eliminate grass cutting and weeding. Your lawn work stops at the edge of the lawn.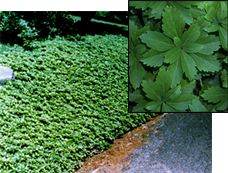 An extensive planting of Pachysandra in partly shaded area bordering a driveway. No maintenance needed. This 10' x 60' planting required about 2,500 plants.
PACHYSANDRA is the only satisfactory plant that will grow as a ground cover under Pine Trees. This plant is used extensively under large spreading trees, back of buildings or in other situations too shady for grass to grow. PACHYSANDRA will transform otherwise bare and ugly ground areas into attractive year-round cover. It is also very effective as a border plant along paths or driveway edgings.
PACHYSANDRA grows at an even height of about 8 inches, giving a perfect flat top effect even for the largest areas.
Green Carpet Pachysandra


Glossy evergreen foliage. At maturity plants sit about 2" lower to the ground than common Pachysandra.


Silver Edge Pachysandra


Creamy white edge with medium green interior leaf. A nice plant for variety in the landscape.


— Sold Out —


Should be Ready to Ship Any Day Now
WE ENCOURAGE YOU TO PREORDER!!


Green Sheen Pachysandra


Pachysandra Silver Edge
— Sold Out —
Available for Spring 2013 Preorder!


(GREEN SHEEN)

Bank planted with Pachysandra Terminalis.
No other plant can give the complete satisfaction that PACHYSANDRA does. It has proven itself perfectly hardy in practically every section of the U.S. and Canada. You can plant almost any time of the year - March through December. Strong husky plants in outside soil frames. Plant 6 inches apart. Pachysandra does well in a good, loose, fertile soil with an acidic pH under 6.0.
NOTE: If you intend to mulch these groundcovers, we suggest you use medium or fine shredded mulch but not more than one inch deep.
Silver Edge, Green Carpet and Green Sheen Pachysandras are one-year, bed-grown, bareroot, with excellent foliage and roots. They are packed in bundles of 50 or 100 with moist peat moss around the roots.
PACHYSANDRA PRICES
PACHYSANDRA - Terminalis
Japanese Spurge

100 for $43.00

200 for $85.00

500 for $210.00
1000 for $385.00
PACHYSANDRA Green Sheen


—NOW SHIPPING!—

The Green Sheen Pachysandra is available in limited quantities.
Deep green, glossy, curled leaves. Will grow 8" to 10" off the ground at maturity.

100 for $67.00

200 for $134.00

500 for $325.00

1000 for $625.00
PACHYSANDRA Green Carpet


—NOW SHIPPING!—

100 for $60.00

200 for $120.00

500 for $295.00

1000 for $550.00
PACHYSANDRA Silver Edge
—Sold Out—
Should be able to ship any day now
WE ENCOURAGE YOU TO PRE-ORDER!!

100 for $55.00

200 for $110.00

500 for $275.00

1000 for $525.00
See our

Shipping Page

for Important Information

SPECIAL
200 Pachysandra Green Sheen &
200 Vinca Minor Bowles
$195